NEWS
print
Forest Genetic Monitoring Training School Announcement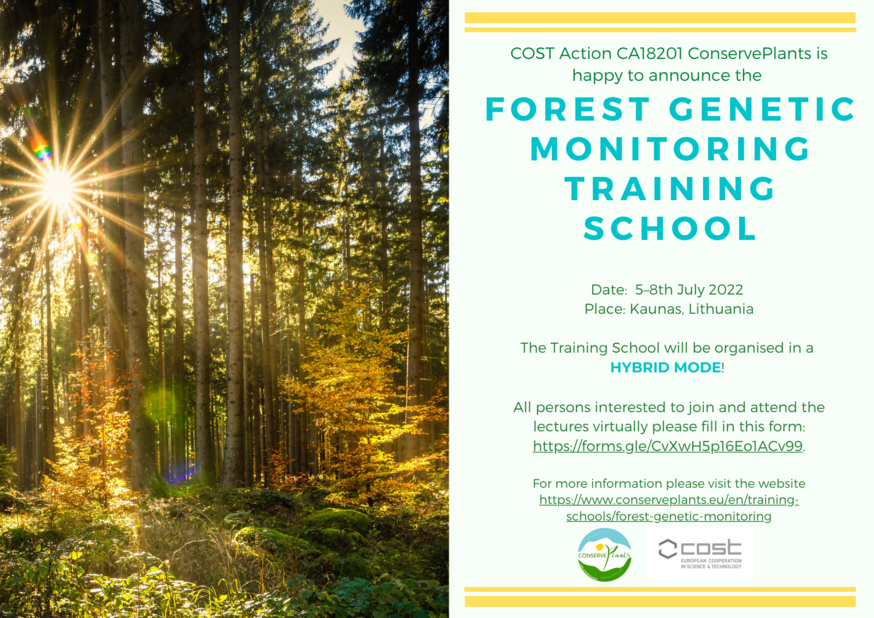 Lectures from the last MC meeting in Bologna, October 2021
Announcement of the Training School IUCN Red List Assessor for Threatened Plants (Podgorica Montenegro, 29.3.-1.4.2022)
More information on the training school and the application procedure can be found here. Application deadline: 10th February 2022.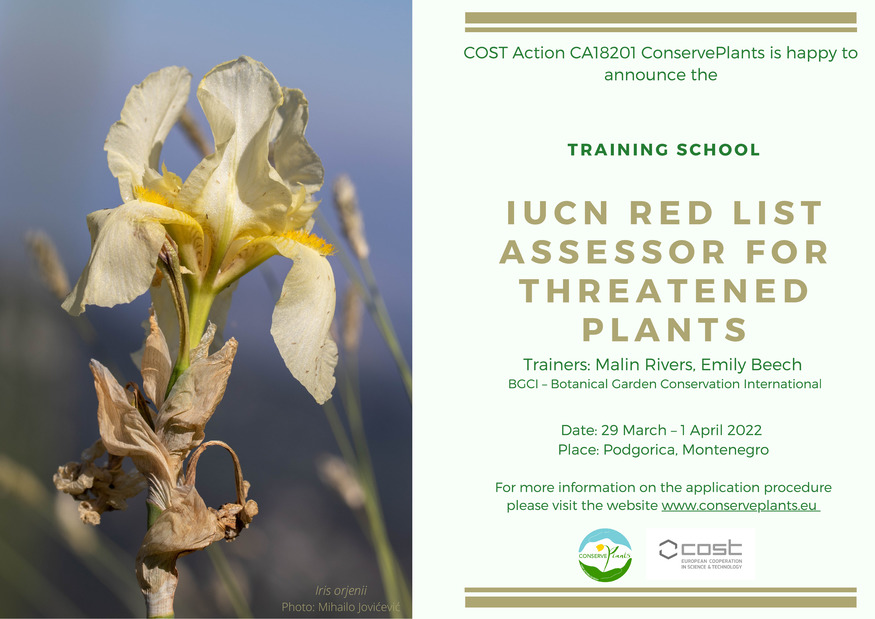 Introducing guest speakers of the meeting in Bologna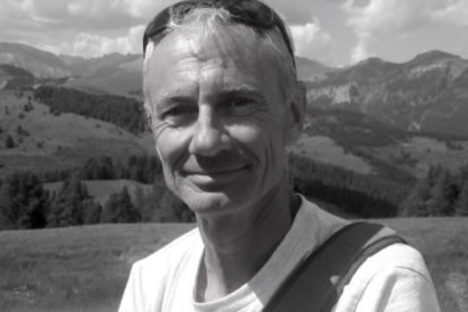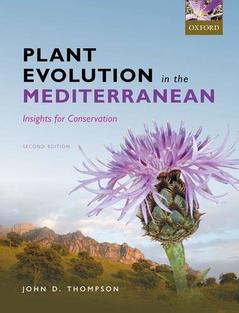 John D. Thompson is a research director with the CNRS at the Centre d'Ecologie Fonctionnelle et Evolutive (CEFE) in Montpellier, France where he works on the ecology, adaptation, and conservation of Mediterranean plant biodiversity. He is President of the scientific commission for the Mercantour National Park, President of the National Parks Scientific Commission for the French National Biodiversity Agency, and member of the scientific commissions of the Mediterranean Botanical Conservancy (France) and the Calanques National Park.
A second edition of his book Plant Evolution in the Mediterranean, first published in 2005, was released in 2020. In his speach, he will talk about the conservation of evolutionary potential in the Mediterranean flora.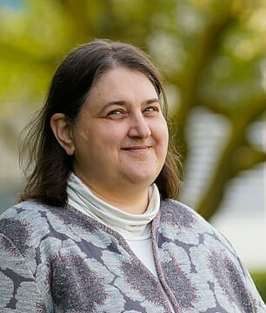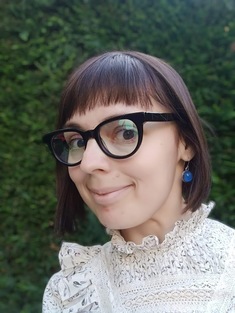 Renata Sõukand is an ethnobotanist with a background in pharmacy and environmental sciences. She is an associate professor at the Department of Environmental Sciences, Informatics and Statistics, Università Ca' Foscari Venezia. Renata does research in Ethnobotany, Cultural Anthropology, Medical Anthropology and History of Science. She is interested in formation of relations between people and plants (and environment in general), from the cultural studies perspective.
Yuliya Prakofjeva is a historian, specializing in Eastern European and Soviet environmental history. Social anthropologist with long-standing field experience in cross-border areas. Currently a doctoral candidate in Environmental Sciences. Her research interests include local ecological knowledge of useful plant diversity for healthcare, food security and subsistence in the Polish-Lithuanian-Belarusian borderland. She continuously expands her expertise on digital environmental communication and social and cultural aspects of human-nature relationships.
Renata and Yuliya with talk about the role of a human in plant conservation, giving examples from the Polish/ Belarus/Lithuanian borderland.
ConservePlants 4th MC meeting in Bologna - 14th & 15th October 2021
ConservePlants is excited to inform you that the 4th MC meeting and associated WG meetings will be organised in the beautiful city of Bologna, Italy.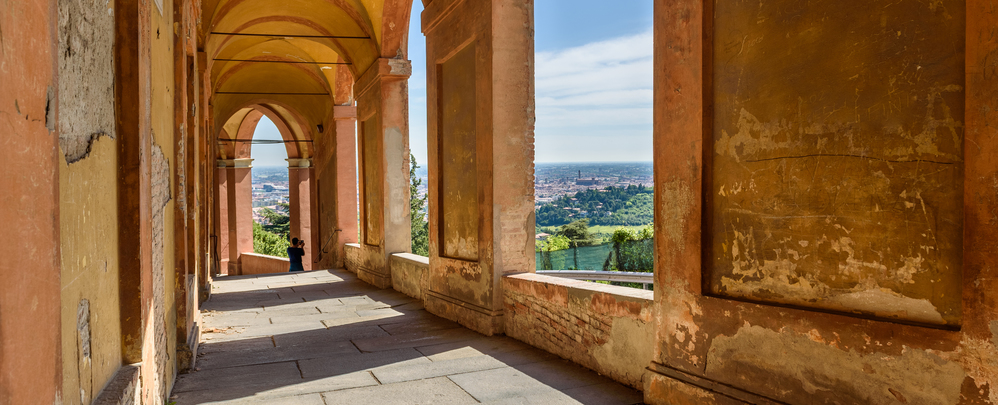 Copyright: © Giorgio Bianchi – Comune di Bologna
Information regarding Covid-19 and the venue can be found here.
Approximate schedule:
Thursday, 14th October 2021
9.00 - 12.00 MC meeting (for MC members / substitutes only)
ZOOM Link to the meeting: https://upr-si.zoom.us/j/8115662408?pwd=S0lQSnVLbzBXUTNITG12Z3ZpWFBPdz09, Meeting ID: 811 566 2408, Passcode: Lpm3z4
12.00 - 14.00 lunch
14.00 - 18.00 Afternoon session: Invited speakers and Working Groups updates
Greetings by the representatives from University of Bologna
14.00 - 15.00 Guest speaker: John Thompson: Towards the conservation of evolutionary potential in the Mediterranean flora
15.00 - 16.00 Guest speakers: Renata Sõukand & Yuliya Prakofyeva: The role of a human in plant conservation: the example from Polish/ Belarus/Lithuanian borderland
16.00 - 18.00 Updates from Working Groups (STSM reporting: Daniele Calabrese, Nina Lončarević, Jinlei Zhu & others, presentation of the CITES booklet)
ZOOM Link to the afternoon session: https://upr-si.zoom.us/j/83063417386?pwd=Vm5yMnNRem01bmIwVnRjQ0xIME9qUT09, Meeting ID: 830 6341 7386, Passcode: 543068
Friday, 15th October 2021
9.00 - 13.00 Working Group 2 hybrid meeting
ZOOM Link to the meeting: https://upr-si.zoom.us/j/88171582509?pwd=Q0ExRDc5UTk1VW9jdHVicGhxQkxvdz09, Meeting ID: 881 7158 2509, Passcode: 649248
9.00 - 13.00 Working Group 3 meeting - face-to-face only
13.00 - 15.00 lunch
15.00 - 18.00 Core Group meeting (for invited Core Group members only)
ZOOM Link to the meeting: https://upr-si.zoom.us/j/8115662408?pwd=S0lQSnVLbzBXUTNITG12Z3ZpWFBPdz09, Meeting ID: 811 566 2408, Passcode: Lpm3z4
Additional information will be sent to the participants prior the beginning of the meeting.
Restoring European grasslands
One of our ConservePlants members, Sandrine Godefroid, leader of Working Group 2, has recently co-authored an interesting paper about the restoration of European grasslands.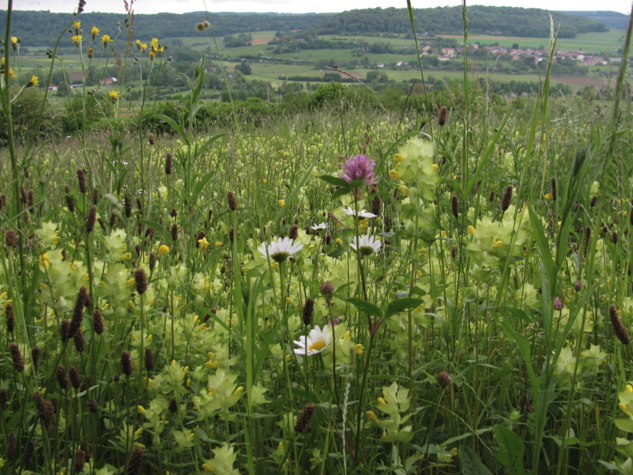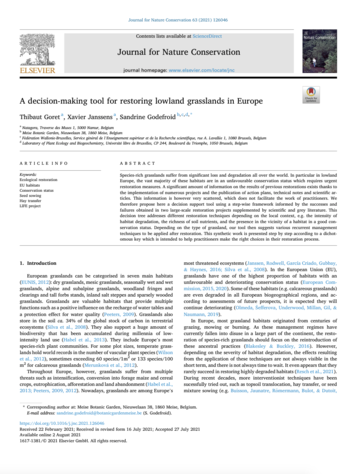 Meise Botanic Garden was involved in an ambitious grassland restoration project funded by the European Union. This project is now complete and we published last week the paper A decision-making tool for restoring lowland grasslands in Europe.
This tool contributes to achieving GSPC target 3. We also believe it is timely in the context of the UN Decade on Ecosystem Restoration (2021-2030) and given the continuous and widespread degradation of these habitats across much of Europe.
In addition to the particularly encouraging results which have been obtained, this project has demonstrated the complementarity and effectiveness of a partnership between the major players in the field of nature restoration and a botanical garden whose main mission is ex situ conservation. If this kind of collaboration was until recently unlikely in the context of LIFE projects, today it represents real added value for nature restoration projects.
The pdf of the article is temporarily accessible on the Elsevier website at the following link: https://authors.elsevier.com/a/1dbez5liTFGKVd
Anyone clicking on this link before October 07, 2021 will be taken directly to the final version of the article on ScienceDirect, which they are welcome to read or download. No sign up, registration or fees are required.
A reflection from the workshop on Plant Food-Medicines Perceptions, Traditional Uses and Health Benefits of Food Botanicals, Mushrooms, and Herbal Teas
Post by Baiba Pruse, Vitalija Povilaityte-Petri, Alex Laird, Wendy Wuyts, Muratk Kızıl, Cristina Flora
In cooperation between the team of DiGe project (ERC-StG-2016) and COST Action ConservePlants an online workshop took place on 24th and 25th of February 2021 with more than 30 participants from more than 10 countries. The two day workshop brought together members from diverse disciplinary backgrounds e.g. anthropology, ethnobotany, pharmaceutical and food sciences, ecology, complementary-alternative medicine and professions e.g. philosophers, food designers, herbalists, entrepreneurs from plant supply and processing companies. Moreover, the representation of countries was mind blowing as the participants were from Argentina, Philippines, Turkey, Iran, Latvia, Estonia, Lithuania, Belgium, Italy, Germany, Denmark, UK, Canada and many more.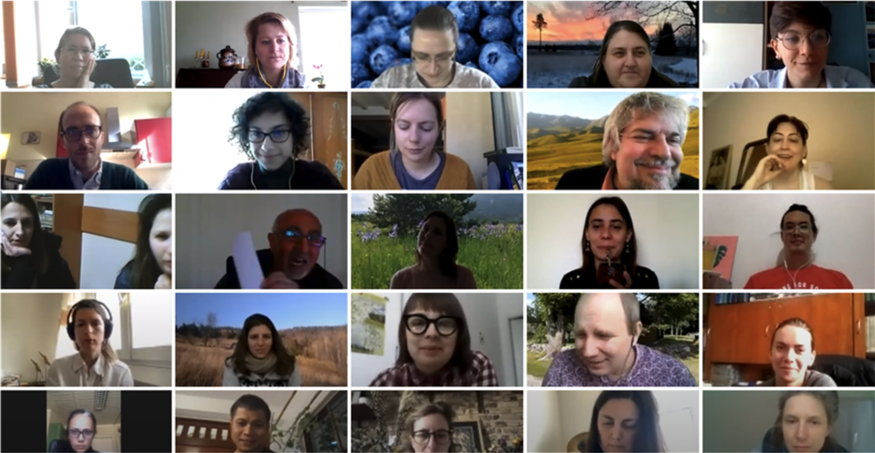 The workshop goal was two fold: to create a networking platform under the topic of plant foods as medicine and to compose a working material for future publications. Throughout the workshop various collective intelligence tools were explored thanks to the training provided to the moderators by Céline Huart from Empathy Tank Baltic.
The first day was about connecting plants and people. Beforehand, all participants were asked to bring a herbal drink and draw their favorite plant. During the session they were asked to introduce themselves in a lean way. Afterwards, Prof. Renata Soukand and Prof. Andrea Pieroni introduced some terminology and main objectives of the field in which they work. While some researchers investigate the biochemical and pharmaceutical properties and evolutions of plant medicines, a smaller group explores the context and the perception that people, communities, countries have. As Prof. Andrea Pieroni said: What makes X (a plant) a medicine for Y (community, culture)? Why does Y ingest X? Why does Y think X (in this dosis, under this condition) is healthy? This understanding can be of high value, for e.g. public health officers, cultural heritage preservationists, other communities in need of self-care knowledge.
During the working process, participants shared their views of healthy food. What does it mean to them? What is their personal story? What are their research interests and needs? Why do they believe this subject is important?
Here comes only some lines from the participants in respect to above:
"Plant based food is the most compatible with my yoga practice. Helps me breathe and flow better." - Lumberto Mendoza
"The extra-ordinary world of plants and how they interact with us. Life/nature's design and nature is my study, my teacher. Schrödinger said, life is about the inside and the outside. Plants amaze me with their elegant and dynamic responses to their environment, synthesising phytochemicals in their thousands which then support our body's myriad functions. Complexity, diversity and reciprocity underpin our/nature's design. A key to living well is managing boundaries with love and kindness, while recognising our oneness - i.e. Keat's negative capability." - Alex Laird
"I love plants and every gift they produce for us." - Nataliya Stryamets
"In Latvia we have a very broad tradition of foraging (berries, mushrooms, herbs for tea). This tradition unifies families and provides opportunity for different generations to connect. I prefer the use of plants as medicine (for relief of common cold, gastric issues, etc.) and have enjoyed plant medicine benefits from early age (chamomile, pine syrup, peppermint etc.)." - Ilona Vanaga
"Barbabuc (Tragopogon porrifolius), a wild edible plant I used to harvest with my grandma. Now that she does not harvest it anymore, I do it for her and she cooks it for me. It is food, but this plant has a lot to do with healing and strengthening relationships." - Giulia Mattalia
"Why and how people fall in love with plants?" - Vitalija Povilaityte-Petri
"From Idea to Launch a product, there are many issues to consider but the red line is always the same: tradition, respect for nature and the people who are working for knowledge transfer but taste, trends and consumer views are as well important." - Cynthia Suarez Rizzo
"Plants link us with the wilderness we have inside." - Nicola Robecchi
"If food has the power to prevent much of the chronic illness we experience today then it makes sense to alter our diets to use it to our own advantage to not only heal and restore the body but also to prevent illness." - Murat Kızıl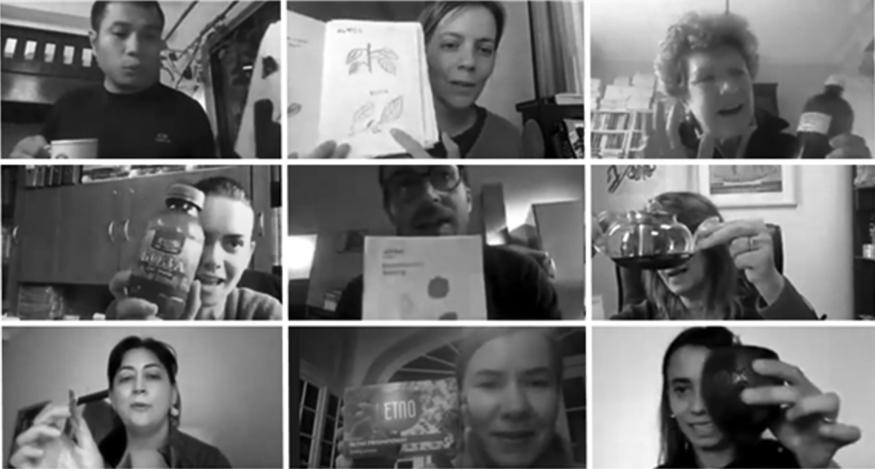 On the second day, six working groups were established with questions linked to defining healthy food through time and space including aspects regarding imagery of healthy food. Each working group received direct feedback from Prof. Renata Sõukand and Prof. Andrea Pieroni and thus ensuring the continuation of sharing various perspectives.
We thank each and everyone for the positive energy and working spirit as the ideas deserve further attention. In case you missed the opportunity to join the workshop but hold a great interest to hear more about the working groups and following working steps, please, send a message to Baiba Pruse (baiba.pruse@unive.it) or Cristina Flora (857854@stud.unive.it).
Training School Plant Translocation – Theory and Techniques
Date: 8-10 September 2021
Place: on-line
Training School leaders: Koenraad Van Meerbeek, Stef Haesen, Peter Glasnovic, Tobias Fremout and Olav Skarpaas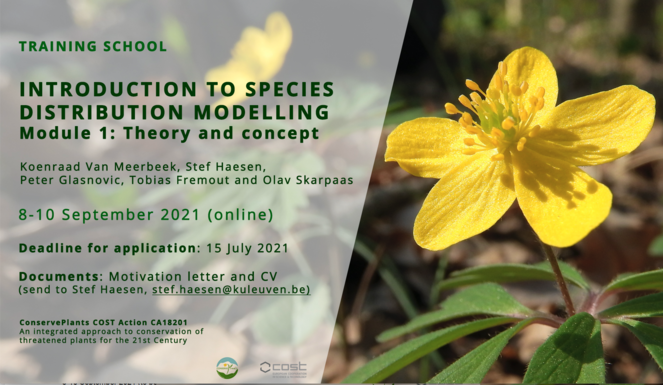 This online training school is prepared within the framework of ConservePlants COST Action (CA18201) and aims at training Early Career Researchers in the fundamental concepts underpinning species distribution models. The aim of online course is to work towards a thorough understanding of SDMs. We will focus on statistical models of species distributions – those that combine observed species records with environmental data. Using a mixture of online lectures, Q&A sessions and case studies, participants will:
understand the theoretical underpinnings of SDMs, including strengths and limitations;
get insight in the different steps that are necessary to perform SDM;
know which data are necessary to perform SDM and where to get it;
understand the differences between different modelling types;
learn to evaluate models and interpret them;
and apply the theory in simple case studies in R.
The applications will use the free statistical software R – basic experience is mandatory. Example data will be provided.
This course is the first of two modules and will focus on theory and concepts. This first module will be held online and is designed for PhD students and Early Career Researchers, interested in using SDMs to model species ranges and predict the impact of climate change. Applicants should send a motivation letter (1p) and Curriculum Vitae to Stef Haesen (stef.haesen@kuleuven.be) before the 15th of July 2021. In the second module (which will be organized later), we will deal with more advanced topics of SDM and we will focus on the practical implementation in R.
Deadline for application (Module I): 15 July 2021
Documents: Motivation letter and CV - send to stef.haesen@kuleuven.be
Baiba Pruse introducing the aspects of Ethnobotany and citizen science
ConservePlants WG4 co-leader Baiba Pruse, Ph.D., introduces the aspects of ethnobotany + citizen science. The short interview added below is part of a training commissioned to the European Citizen Science Association, called "The nuts and bolts of citizen science". Enjoy the recording!
In the video, Baiba shortly introduces the recent book on citizen science, called "The Science of Citizen Science" and references additional scholars of the field of work. She also names the recent newsletter post on ethnobotany and citizen science published together with Dr Cory Whitney in the latest issue of Society for Economic Botany Newsletter, the link here.
WG4 - call for PhDs, Post-Docs and Master Students!
Publication date: 23 April 2021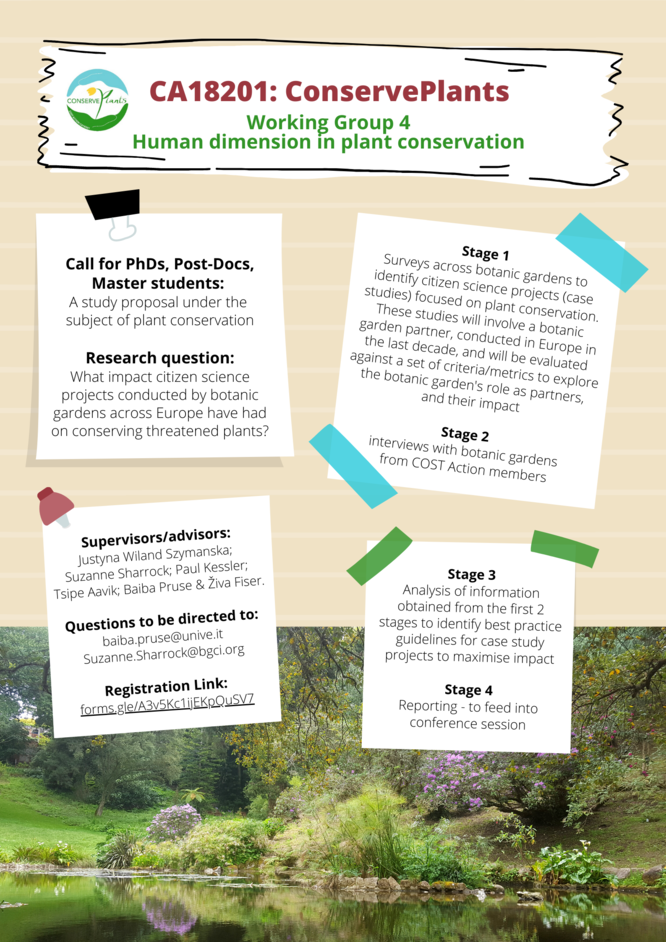 14th April 21: WG4 Meeting with all WG4 members
Time: 03:30 PM Rome
Meeting link: please, reach out to Baiba Pruse (baiba.pruse@unive.it) or Justyna Wiland-Szymańska (wiland@amu.edu.pl) to receive the zoom link.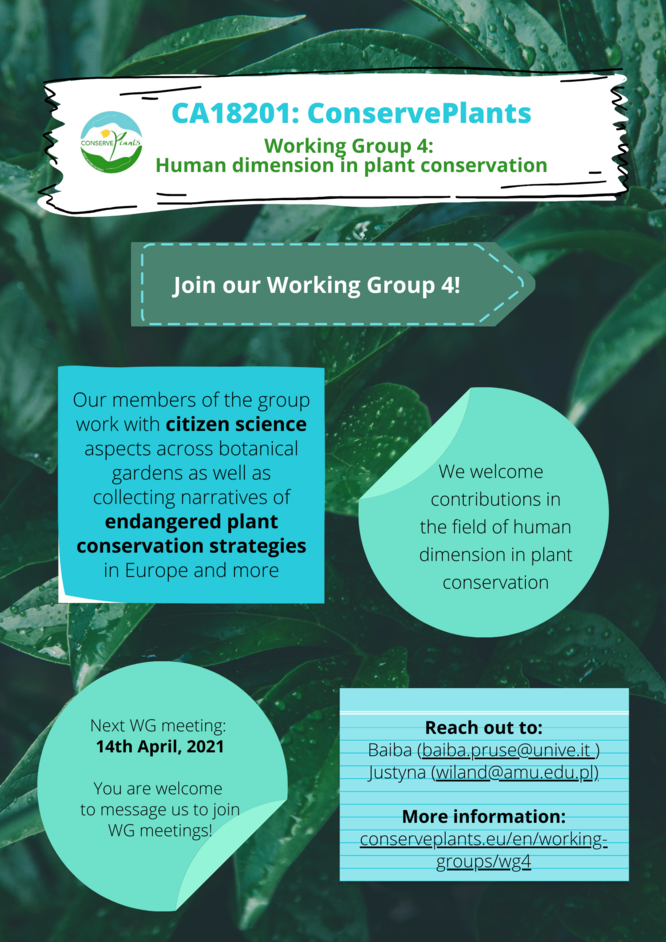 24-25th Feb 2021: Plant Food-Medicines: Perceptions, Traditional Uses and Health Benefits of Food Botanicals, Mushrooms, and Herbal Teas
On behalf of Prof. Renata Sõukand and Prof. Andrea Pieroni, the ERC-StG-2016 DiGe team and members of COST Action ConservePlants Working Group 4 (CA18201) we welcome each and every one to join TWO DAY WORKSHOP on Special Issue "Plant Food-Medicines: Perceptions, Traditional Uses and Health Benefits of Food Botanicals, Mushrooms, and Herbal Teas" on 24th (10:30 - 12:30 CET) and 25th (10:30 - 17:00 CET) of February.
More info available here.
Please, register and provide your research interest based on the workshop information here: https://forms.gle/pMaFwmibnwZK94Gy8 until 10th of February (2021) in order to receive the entrance link before the workshop and additional instructions.
For any questions please, come back to:
Cristina Flora [857854@stud.unive.it] or Baiba Pruse [baiba.pruse@unive.it].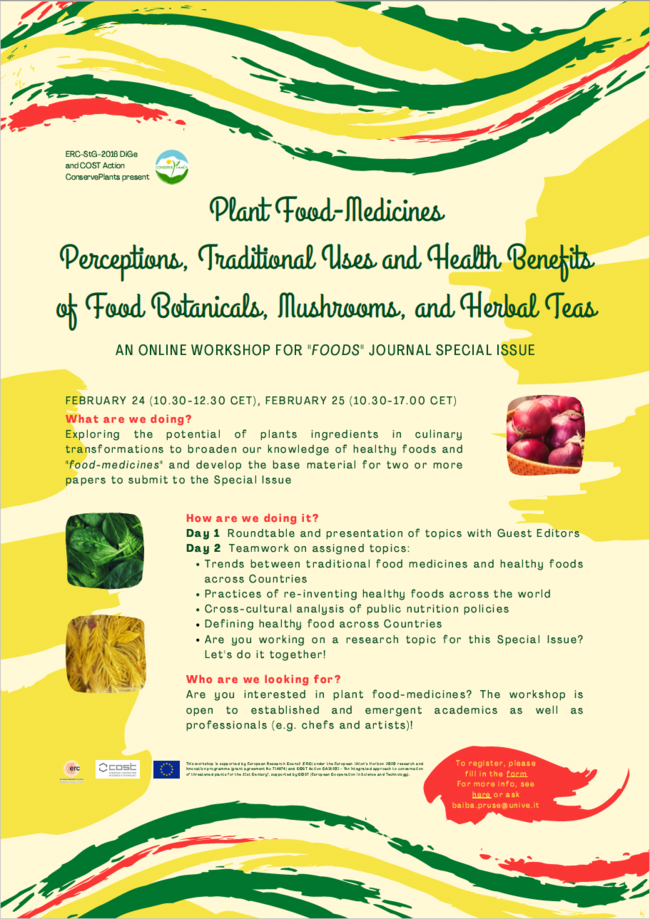 MC Meeting and WG meetings, 18-20th November 2020 - ON-LINE
The 3rd MC Meeting of ConservePlants will be held on 18th November. WG meetings will follow between 18-20th November. All meetings will be held on-line. In spite of the current situation with Covid, ConservePlants members are being active and Working Groups are continuing with the planned activities.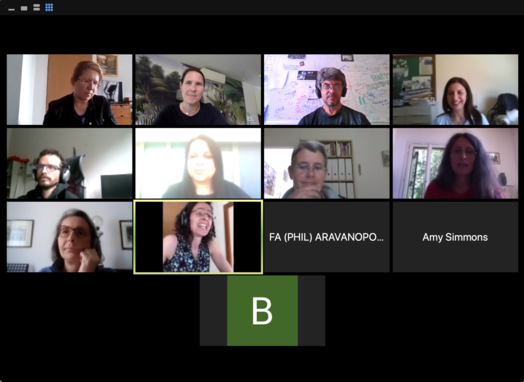 ConservePlants in BGjournal
BGjournal is the worldwide journal of botanic garden conservation. It covers a range of detailed content including in-depth features, congress reports, profiles of gardens and case studies of conservation work being carried out in gardens around the world.
Among the featured articles in the recent issue of BGjournal - Working towards the achievement of the GSPC Targets - is an article about ConservePlants!
Find the latest issues of the BGjournal here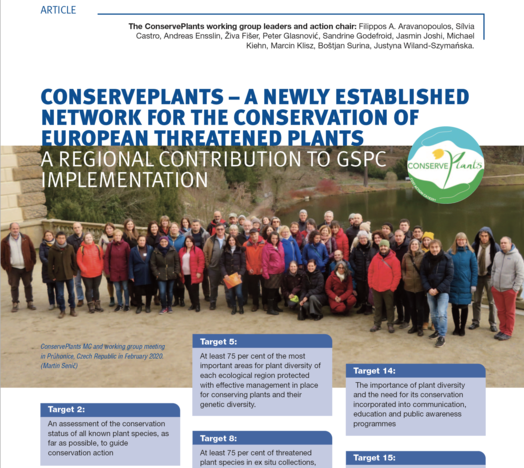 Management Committee and Working Group meeting in Průhonice, 5-6 February 2020
We are excited to inform you that the Institute of Botany of the Czech Academy of Sciences will be hosting the next Management Committee and Working Group Meeting of our COST Action. Botanists from almost 40 coutries will meet in the beautiful Castle of the Průhonice Park!
Moreover, 2 guest speakers will join us on the 5th February:
Professor Vernon Heywood, a specialist in plant taxonomy and systematics, is Emeritus Professor in the University of Reading. He has worked on biodiversity and conservation issues in many parts of the world, particularly in the Mediterranean. He will give a lecture with the title: "The challenges of integrated plant conservation in Europe".
Dr. Zuzana Münzbergová is a plant ecologist interested in mechanisms driving dynamics of natural populations. She will present the "Genetic diversity in populations of rare species and its implications for species conservation". At the moment she is the head of the Department of Population Ecology at the Insitute of Botany of the Czech Academy of Sciences.